Nonresidential construction picked up the lion's share of a 22,000-job increase in August.
Analysis of federal data by both Associated Builders and Contractors and Associated General Contractors of America shows that construction industry employment has increased by 212,000, or 2.7%, on a year-over-year basis.
In August, construction employment totaled 7,993,000, seasonally adjusted.
Comparatively, a total of 363,000 job openings were recorded on the last day of July, according to an analysis of the U.S. Bureau of Labor Statistics' Job Openings and Labor Turnover Survey. 
For the data, a job opening is defined as any unfilled position for which an employer is actively recruiting.
Construction job openings decreased by 23,000 from June but are up 10,000 from the same time in 2022.
AGC Chief Economist Ken Simonson says the federal reports show that there is no letup in demand for construction workers or private-sector projects.
For July, nonresidential construction firms — nonresidential building and specialty trade contractors along with heavy and civil engineering construction firms — added 21,000 employees for the month and 169,700 (3.7%) since July 2022. 
Nonresidential specialty trade added 12,100 positions, while heavy and civil engineering and nonresidential building added 7,100 and 1,800 jobs, respectively.
Also, employment at residential building and specialty trade contractors grew by 1,400 last month and 42,400 (1.3 %) over 12 months.
"Across all industries, job openings are now at the lowest level since March 2021 and the rate at which workers are quitting their jobs has returned to the pre-pandemic norm," ABC Chief Economist Anirban Basu said. "As consumer spending buckles under the weight of inflation and the effects of higher interest rates begin to weaken growth, the labor market should continue to cool."
Although the number of open, unfilled construction jobs declined in July, 4.4% of industrywide positions are currently unfilled, a greater share than one year ago and at the start of the pandemic.
The challenge of finding a skilled workforce has made some contractors reluctant to lay off workers. Basu said most contractors are expecting to increase staffing levels over the next six months, which could lead to the labor scarcity remaining a headwind through the end of 2023.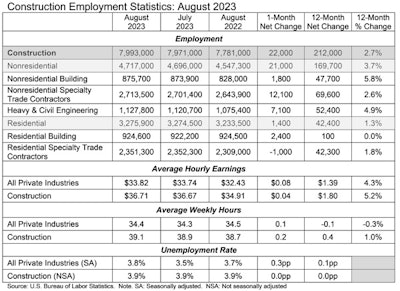 For now, the construction unemployment rate remains unchanged at 3.9% in August. Unemployment across all industries expanded from 3.5% in July to 3.8% last month.
"The industry is raising pay faster than other sectors amid persistently low unemployment, but contractors are frustrated by the slow pace of new public project awards," Simonson said.
Average hourly earnings for production and nonsupervisory employees in construction — covering most onsite craft workers as well as many office workers — jumped by 5.7% over the year to $34.40 per hour in August. 
In addition, construction firms paid a wage "premium" of 18.6% compared to the average hourly earnings for all private-sector production employees. However, contractors report difficulty finding qualified workers amid an unemployment rate of only 3.9% in August for jobseekers with construction experience.
Despite the increase in jobs for nonresidential construction, spending barely expanded, and when adjusted for inflation, it declined.
"The economic data, just like the economy, continue to be full of surprises," Basu said.
Construction spending in July totaled $1.97 trillion at a seasonally adjusted annual rate, an increase of 0.7% from June and 5.5% from July 2022. 
On a seasonally adjusted annualized basis, nonresidential spending totaled $1.08 trillion and is up 16.5% year over year.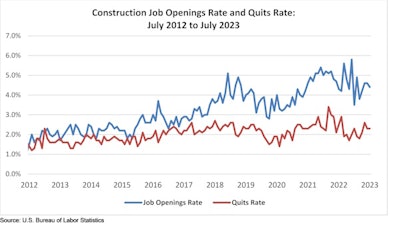 Spending was up monthly in eight of the 16 nonresidential subcategories. 
Private nonresidential spending increased 0.5%, while public nonresidential construction spending was down 0.4% in July.
Per the federal reports, public construction spending slid 0.4 percent as the largest infrastructure categories declined from June. 
Basu noted that the biggest surprise was the spending weakness was not concentrated in the private developer segment which has struggled to establish consistent momentum but in several public construction segments.
Highway and street construction spending fell by 0.6 percent, transportation by 0.9 percent, and sewage and waste disposal by 1.2 percent.
the economic data, just like the economy, continues to be full of surprises.
"Since nonresidential construction hiring was strong last month, the expectation is that July's construction spending number will prove to be an aberration," said Basu. "Spending growth should be solid going forward, driven in large measure by several massive construction projects in development or early construction stages."
He advised caution that those segments dependent upon bank financing are expected to weaken going forward.
Although some developers are encountering harsher lending markets, it is becoming an era of megaprojects which has created an increased demand for construction workers.
Many projects are exceeding $1 billion.
Basu feels that due to the role of the megaprojects in the current economic environment, is it possible the construction industry will face recessionary conditions in certain areas of the country sometime during the next two years, even as activity surges in others.
"This suggests that many construction workers may decide to relocate as the disparity in industry performance widens both geographically and among various industry segments," Basu said.